Obituary for William Barclay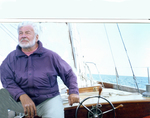 William (Bill Berezowski) Barclay
Jan 31, 1928 – Oct 23, 2015


Bill was born to John Berezowski and Jennie Kozachenko in Rouyn Quebec and spent his early childhood years living in several small northern mining towns. The family settled in the Parkdale area of Toronto which Bill loved and where he and his sister Bernice grew up. He attended Central Tech, played junior football and, in 1949, was recruited to play at McMaster University.

In 1952 Bill graduated from McMaster where he met Katherine Latham whom he married in 1954. He had a brief career in the CFL, winning the Grey Cup with the 1953 Hamilton Tiger Cats. He and Katherine raised a large family, four girls and two boys. He enjoyed a successful career in the auto business, owning Terrace Motors, then Barclay Motors in Burlington, retiring to Nova Scotia in 1990.

With his family, Bill sailed the waters of Lake Ontario, Georgian Bay and Mahone Bay in his beloved wooden ketch, the Aideen. In Lunenburg and Mahone Bay he continued to hone his considerable skills as a yachtsman, boatbuilder, carpenter, and bridge player. He was a voracious reader and a historian with an encyclopedic memory.

He was a strong parent. He expected a lot. He extolled the benefits of a positive attitude. He was very proud of the accomplishments of his children and grandchildren. He was quick to lend a hand to those in need and did it quietly. When he did a job, he did it right. We have lost a modest, capable and generous man.

He will be missed.

Bill Barclay died of old age at the Fishermen's Memorial Hospital in Lunenburg, Nova Scotia.

Donations can be made to the Public Library of your choice, or the Dr. Arthur H. Patterson Centre for Restorative Care at Fishermen's Memorial Hospital, Lunenburg. These are two of his favourites.

Receptions will be held at the Dana L. Sweeny Funeral Home, 11213 Hwy. # 3, Lunenburg, Nova Scotia on Saturday, October 31st from 2:00 – 4:00 pm and at The Roseland Club, Burlington, Ontario on Saturday, November 7th from 2:00 – 4:00 p.m.