Obituary for Ann Marie Lamey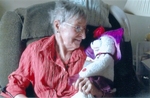 Together at last. After a separation of nearly seventeen years, Ann Lamey, aged 95, left peacefully to join her husband, John Henry Lamey.

Ann leaves behind and will be sadly missed by daughter Deborah Sweet (David) of Mahone Bay, Nova Scotia, granddaughters Lauren Sweet-Lawrence (Jeremy) of Morinville, Alberta, Robyn Sweet of Mahone Bay, and great-grandchildren Hannah, Sara and Joshua. She is also survived by sisters-in-law Shirley Woolley of London, Ontario, Winnifred Tate of Waterdown, Ontario, Brother-in-law Bernard Teague of Milton, Ontario and many nieces and nephews.

Ann was predeceased by her husband John (Jack), parents John and Elsie Woolley, brother Ernest Woolley, and sister Eileen Teague.

Born in Hamilton, Ontario and raised in nearby Dundas, Ann took a keen interest in sports, particularly basketball, and loved dancing. Trained as a stenographer, she worked for John Bertram & Sons Co., then with her brother Ernie for the Royal Bank in Dundas. Her marriage to Jack in 1948 took her to Beamsville, Ontario, where they made many lifelong friends. Jack worked for Ontario Hydro, and in later years, Ann worked as a bookkeeper for Albright Manor and Dandies Department Store until Jack's retirement. They enjoyed trips to Myrtle Beach and Florida before starting a new chapter in Peterborough, Ontario, boating and fishing to their hearts' content. A decision to return to Dundas brought them full circle. They became active members of the Dundas Seniors' Centre and enjoyed many bus and train trips with the group, crisscrossing Canada, the United States and Mexico in their travels. A highlight was their personal trip to England and Scotland, visiting distant family. Five years after Jack's passing, Ann's last move brought her to Nova Scotia to be closer to her daughter and family.

Many thanks to the kind and caring staff of Bridgewater's Ryan Hall nursing home who made her final days so calm and comfortable.

Initial arrangements have been carried out by the Dana L. Sweeny Funeral Home in Lunenburg, Nova Scotia.

Visitation and service will take place at Turner Family Funeral Home at 53 Main Street in Dundas, Ontario. Visitation on Sunday, February 11th from 2:00-4:00 p.m. Service time of 1:00 p.m. on Monday, February 12th with interment at Grove Cemetery in Dundas. A reception will follow in the community room next to the Turner Family Funeral Home.

Expressions of Sympathy in Ann's name to a charitable organization of your choice would be appreciated by her family.