Obituary for Millicent "Millie" Pearl Sonnichsen (Joudrey)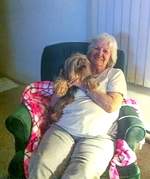 It is with great sadness that the family of Millicent Pearl Sonnichsen "Millie", 82, of Bridgewater, announces her passing on Thursday, April 26, 2018 at Shoreham Village Nursing Home, Chester.

Born in Mahone Bay, she was a daughter of the late James and Iva (Slauenwhite) Joudrey.

Millie was a quiet person who took great pride in raising her family and was proud of all their accomplishments, and particularly, those of her many grandchildren.

Millie is survived by her husband, James; sons, Michael (Helen) Crant, Tantallon, Tony (Paulette) Crant, Les (Quan) Crant, both of Moncton, NB, Paul (Barb) Crant, Charlottetown, PEI ; grandchildren, Paula, Amy, Stephen, Rachel, Victoria, Jessica, Dustin, Courtney, Dylan; great-grandchildren, Mikaela, Mitchel, Jevon, Jackson, Joshua, Damon, Genevieve.

She was predeceased by her first husband Henry Crant, grand-daughter, Christina; sister, Jean Hartlen; half-sister, Mabel and half-brother Weldon.

Funeral arrangements entrusted to the Dana L. Sweeny Funeral Home, 11213, Hwy #3, Lunenburg. A memorial service for Millie will be held on Tuesday at 1:00 p.m. at Mahone Bay United Baptist Church, Mahone Bay, Rev. Sherrolyn Riley officiating. Interment to follow in Park Cemetery, Mahone Bay.

In lieu of flowers memorial donations may be made to Mahone Bay United Baptist Church or the S.H.A.I.D. Tree Animal Shelter.