Obituary for Margaret Elizabeth Wentzell (Mossman)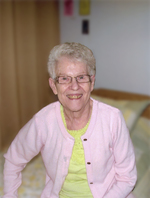 It is with great sadness that the family of Margaret Elizabeth Wentzell, 78, of First South, announces her passing on Friday, April 27, 2018 at Harbour View Haven Home for Special Care, Lunenburg.

Born in Rose Bay, she was the daughter of the late Ronald and Gladys (Ernst) Mossman.

Margaret started her working career at the Oven's Natural Park and then went on to work at the Colonial Restaurant in Lunenburg and was then employed for more than 35 years with Simpson Sears. Margaret loved to walk and was involved in the Elderfit program. Having a great love for people she volunteered at Harbour View Home for Special Care, bringing joy and building lasting friendships with residents and staff. Margaret was a member of Grace Lutheran Church and a member of the ELW of the church.

She is survived by daughters, Nancy (Kevin) Rose, First South, Carolyn Wentzell, New Jersey, son, Kevin (Michelle Doucette) Wentzell, Weymouth; grandchildren, Matthew(Kristine) Rose, Mallory(Jon)Eisenhauer, Brandon(Kate)Wentzell and Breanna(Thomas)Woodworth; great-grand children, Carter, Rosalie and Skyler, Vash, Hallie, Landon and Lela Mae; sister, Irene Knock, Hillside Pines, Bridgewater; brother, Albert (Alice) Mossman, Fredericton, NB, several nieces and nephews.

She was predeceased by her husband, Allen and niece, Rose Marie Fry.

Funeral Arrangements are under the direction of the Dana L. Sweeny Funeral Home, 11213 Hwy. # 3, Lunenburg, and from where a memorial service will be held on Saturday May 5th at 11: a.m. Rev. Adam Snook, officiating. Interment will be in the First South Cemetery, First South.

In lieu of flowers, memorial donations may be made to the Alzheimer's Society, First South Cemetery or Harbour View Haven.

A huge thank you to all the staff at Harbour View Haven for all their care, love & compassion in caring for Mom.
Mom will be dearly missed by all.