Obituary for Lauren Everett Wile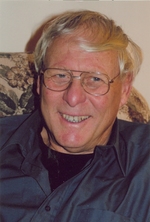 It is with great sadness that the family of Lauren Everett Wile,82, of Lower LaHave, announces his passing on Friday, May 4, 2018, at South Shore Regional Hospital, Bridgewater.

Born in Bridgewater, he was a son of the late Everett and Edith (Schwartz) Wile.

Lauren began his working career on various ships, beginning with the research vessel, Vema, followed by the Maruba with OK Service Boats out of Liverpool.He then came ashore working for Powers Brothers in Lunenburg, followed by the Lunenburg Shipyard. Following this, he went on to own his own mink ranch in Rhodes Corner, finally finishing out his career as head custodian at Centre Consolidated School in Centre.

He was an avid hunter and fisherman, a hobby he began as a young boy as soon as he was old enough to own a pellet gun. During his retirement he was able to enjoy being outdoors whenever possible.

Lauren is survived by his wife, Shirley; daughters, Susan Wile, Maders Cove, Pam (Richard) Himmelman, Italy Cross; son, Michael, Toronto and grandson Joseph Greene

Besides his parents, Lauren was predeceased by his brother Gerald.

Arrangements entrusted to the Dana L. Sweeny Funeral Home, 11213, Hwy #3, Lunenburg. A graveside memorial service will be held at 2:00 p.m. on Thursday, May 10, 2018, at First South Cemetery, First South. Rev. Willis Ott officiating.

In lieu of flowers memorial donations may be made to the Arthritis Society of Nova Scotia or a charity of your choice.

Order Flowers