Obituary for Freddy Urs Tschudin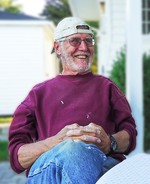 It is with great sadness that the family of Friedrich "Freddy" Tschudin, 79, of Feltzen South, announces his passing on Sunday, May 27, 2018, at Fishermen's Memorial Hospital, Lunenburg.

Born in Basel, Switzerland, he was a son of the late Theodor and Frieda (Beetschen) Tschudin.

After high school in Basel, Switzerland, Freddy completed three-year apprenticeships as a carpenter and technical employee. He went on to become an interior decorator.

On a trip to Canada in 1986, he and Heidy decided to choose this country's east coast as the place where they would retire. They made this dream a reality when they bought a lot and built their house in Feltzen South/Rose Bay in the late eighties and moved there in 1995.

As an avid outdoorsman and handyman, Freddy cherished every opportunity to enjoy the beautiful environment around him, whether from the sea, sports car or while lovingly and meticulously caring for his property and gardens. He embraced the local community and since coming to Canada he learned to play the bagpipes, enjoyed Scottish Country Dancing, and indulged in his favorite hobbies, sailing and model trains. He was also a former volunteer with the boy scouts, veterans and generously supported his community in any way he could. He liked travelling to foreign countries as well, but Canada in general and Nova Scotia in particular were his focus.

Freddy will be sorely missed by his beloved wife and best friend, Heidy; his son, Mike (Eliane) Tschudin, Wattenwil, Switzerland; his adored grandchildren Alexander and Michèle; sister-in-law, Romy Heuberger and brother-in-law Walti (Ursi) Basler, all of Switzerland, as well as many friends everywhere.

He was predeceased by his first wife, Beatrice, and brother, Peter.

A gathering to celebrate Freddy's life will be held at St. Mark's Place, Middle LaHave

Memorial donations may be made to St. John's By The Sea Lutheran Church, or to Operation Smile through the Dana L. Sweeny Funeral Home, 11213 Hwy. # 3, Lunenburg.


Order Flowers