Obituary for Carole Joan Collins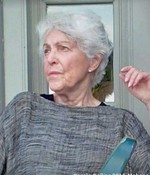 Carole Joan Sedwick Collins died quietly at her home in Mader's Cove, Nova Scotia, on June 22, 2018, overlooking her garden and Mahone Bay while surrounded by her family. Carole leaves John, her husband of 62 years, and their children John Bruce (Carol Payne) of Ottawa, Blayne (Dan Keeler) of Lambton Shores, Ontario and Anne Collins of Dwight, Ontario, grandchildren Alexis Paton (Steven Robinson) (Rugby, UK), Hannah Paton (Halifax, NS), Meg Collins and Alice Payne of Ottawa, and great-granddaughter Antonia Paton Robinson (Rugby, UK). She also leaves her sister, Linda (Bill) Dunn (Ottawa), sisters-in-law Janet Aiken (Lambton Shores, Ontario) and Earlaine Collins (Toronto), and five nieces and nephews.

Carole was born in Toronto, Ontario February 5, 1936, to Ada and Bruce West, a journalist with the Globe and Mail. She met her future husband John at the University of Western Ontario, while playing bridge. They have been playing bridge and creating a rich life together ever since.

She was a strong, independent and intelligent woman with a great laugh, kind heart and strong practical streak. She could sum up a situation or deliver some sound advice in a few incisive words. Carole did not take any guff from anyone, including poachers, bank managers and bridge gurus such as Oswald Jacoby. Her last few months were difficult, but she was the director of her life up to the end. Once she had taught us all she could, she left on her own terms.

A fantastic cook, she could organize a great party and hosted many memorable ones. Carole will hold her last party for friends and relatives at a later date. If you wish to make a memorial donation, please consider the Mahone Bay Centre or the Mahone Bay Food Bank, both at PO Box 489, 45 School Street, Mahone Bay NS B0J 2E0.




Order Flowers