Obituary for James Leslie ""Jim"" Anderson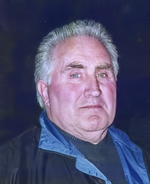 It is with great sadness that the family of James Leslie (Jim) Anderson, 73, of Blue Rocks, announces his passing on Tuesday, August 14, 2018 at his home.

Born in Canso, he was a son of the late William and Marjorie (Fanning) Anderson.

Jim began his working career at a young age aboard the fishing boats out of Lunenburg, Shelburne and Lockport. He eventually went on to work for the Halifax Pilotage Authority as Tugboat Captain as well as going on to work on the Great Lakes. He also owned and operated his own boat tour business "Herring Rock Boat Tours" out of Blue Rocks until his health forced him to retire. Jim loved sailing and spent many enjoyable days aboard his boat "Aquarius" with his friend Carol. He also loved his own "version" of camping and hunting. James especially cherished the times spent sport fishing with his close friend Don Hodder.

Jim is survived by his daughter, Carolyn Jane (Lawrence) Langille, Blue Rocks; sons, James (Wanda), New Cumberland, Jason (Laura England), Princes Inlet; sisters, Marjorie Anderson, Canso, Janice Anderson, Eastern Passage; brothers Bill (Angela), Spryfield, Tom (Nina), Canso, Bob (Marta), Canso; Poppy to his grandchildren, Tristan, Charlie, Morgan, Hailey, Savanah, Corey, Josh; great-grandpoppy to Isabelle, Nolan and Carter; brother-in-laws, Wade Tanner, Blue Rocks, Kevin Tanner, Midville Branch; as well as many nieces and nephews. He will also be greatly missed by his companion and friend, Carol Whare and her children Jason Greek, Selina Whare as well as Poppy to Patrick, Bailey, Hazen, Joseph, Rhuen; great-grandpoppy to Elsie. Not the least of which, he will be missed by his beloved pets, Chase and Bo.

Besides his parents, Jim was predeceased by his wife Carolyn and brother Cyril.

Funeral arrangements entrusted to the Dana L. Sweeny Funeral Home, 11213 Hwy #3, Lunenburg and from where a memorial visitation will be held on Sunday, August 19 from 7-9 p.m. A graveside memorial service will be held on Monday August 20 at 11:00 a.m. in Upper Blue Rocks Cemetery, Upper Blue Rocks.

In lieu of flowers memorial donations may be made to S.H.A.I.D. Tree Animal Shelter, Elderdog or the SPCA would be appreciated by the family.

Order Flowers