Obituary for Eileen Dolly Tanner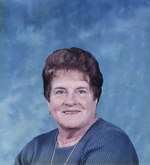 It is with great sadness that the family of Eileen Dolly Tanner, 86 of Northwest, announces her passing on Sunday, August 19, 2018 at the South Shore Regional Hospital, Bridgewater. Throughout her illness she was able to stay at home until the day before her passing and was cared for by her loving husband and family.

Born in Blockhouse, she was the daughter of the late Martin and Gertrude (Weagle) Wilneff.

Over the years, Eileen worked for various companies, Guy Falkenham's egg business, textile factory in Lunenburg, National Sea Products, Lunenburg Dry Cleaners and the Sail Loft in Lunenburg and then for the next 14 years she went to work as a cook at Harbour View Haven Home for Special Care and remained there as supervisor in the kitchen until her retirement in 1994.

She enjoyed the simple pleasures of life and found great pleasure in spending time at home cooking with and for her family, which included the special time she put into baking the family birthday cakes and Christmas baking. She loved babysitting her adored grandchildren and even looking after the four-legged family great grand-dogs, During the summer months she loved spending time at the cottage. She was a member of Zion Lutheran Church and the local Tops Group.

Eileen is survived by her beloved husband, Charles, son, Gary (Kathy) Tanner, Centre; daughter, Sandra (William) Skinner, Spectacle Lakes; grandchildren, Ryan (Lisa), Matthew (Ally) and Justine (Matt), "great-grandchildren" Susie and Xander"; sisters, Laura (Wilbur) Frank, Ontario; Lois Veinot, Fauxburg; and Elva, Martin's River; brothers, Robert (Paul) Wilneff, Ontario; and Gary (Glenda) Wilneff of Alberta, and several nieces and nephews.

She was predeceased by her sister Kathleen (Kaye) Grace, and brothers, Lester, Murray, Harold, Percy, and an infant sibling.

A private family gathering to share memories of Eileen will be held on Friday at the Dana L. Sweeny Funeral Home, Lunenburg.

In lieu of flowers memorial donations in Eileen's memory may be made to South Shore Palliative Care, Lunenburg County VON, Canadian Red Cross or to a charity of your choice.

The family of Eileen would like to thank the Staff of the South Shore Regional Hospital, Dr. Gowan and the South Shore Palliative Care and Dr. Kelly and staff for their wonderful care of our mom. We would especially like to thank the Lunenburg County Home Support and the Lunenburg County VON who made it possible for our mom to be able to stay in her home as long as she could. Also appreciation to the Canadian Red Cross for supporting us in the way they could. To our extended family, neighbours and friends thank you for being so kind to our mom.

www.sweenyfuneralhome.ca



Your Mother is always with you.
She's the whisper of the leaves as
you walk down the street, she's the
smell of certain foods you remember,
flowers you pick, the fragrance of life
itself. She's the cool hand on your
brow when you're not feeling well,
she's your breath in the air on a cold
winter's day. She is the sound of the
rain that lulls you to sleep, the colours
of a rainbow, she is Christmas
morning. Your mother lives inside
your laughter. She's the place you
came from, your first home, and
she's the map you follow with every
step you take. She's your first love,
your first friend, even your first
enemy, but nothing on earth can
separate you. Not time, not
space…not even death.

Order Flowers