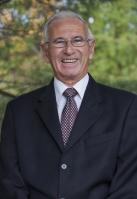 Robert F. Zinck, Funeral Director's Assistant
Robert, "Bob" was born in Rose Bay, N.S, educated locally and then graduated from Rogers High School in Newport, Rhode Island. After returning to Nova Scotia he taught school for two years before entering Mount Allison University. Following graduation, he attended Pine Hill Divinity College and received his Bachelor of Theology and his Masters of Divinity. He served many Pastorates throughout Canada in his 27 years of ministry.


Bob has served on many church committees, and is active in his community. He is a former board member of Bonny Lea Farm, an active member of the Mahone Bay and Area Lions Club, Child Development Committee, and a member of the church choir at Central United Church, Lunenburg. Following his retirement from the ministry in 1996, Bob and his wife Beatrice returned to the South Shore where he often works with his son Mike.

Bob's hobbies include sailing, painting, model-building, gardening and traveling.