Obituary for Rachel Kennedy (Sweeny )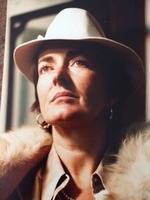 82, passed away peacefully October 9, 2016, in Courtyard Gardens Assisted Living facility in Jupiter, FL.

Born in Lunenburg, she was the daughter of Dana L. Sweeny and Agnes Duff.

After graduating Rhode Island School of Design, she married Michael Kennedy and raised her four children in Port Washington, NY and Scituate, MA. She then moved to Naples, Florida to successfully pursue her passion and talent for painting full time.

Her artwork has received many accolades and currently hangs in homes throughout the US and Canada.

Rachel is survived by her children Michael, Susan, Christopher and Terrence; and grandchildren Kylie, Jessica, Mack and Keely. She was predeceased by her ex-husband Michael Kennedy; and brother William (Duff). She was the granddaughter of Senator William Duff and niece of Mary Duff and Jean Lohnes.

Memorial donations may be made to the Lunenburg Art Gallery. A graveside committal service will be held Tuesday, August 1, 2017 at 3:00 p.m. at Hillcrest Cemetery, Lunenburg, Rev. Alvin Westgate, officiating.