Obituary for Josephine Mary Skinner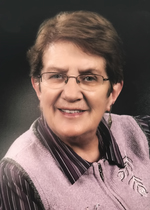 It is with great sadness that the family of Josephine Mary Skinner, 77 of Lunenburg announces her passing on Wednesday, April 18, 2018 at the Fishermen's Memorial Hospital, Lunenburg

Born in Lunenburg on April 25, 1940, Josephine was the daughter of the late Michael Joseph (Sr.) and Jean (Selig) O'Connor.

After graduating from the Lunenburg Academy, Josephine began a lifelong career of teaching, which included 25 years as a preschool teacher, 13 at The Lunenburg Co-op Nursery School and 12 in her home with Melody Lane Nursery School. Music and teaching were co-mingled passions of Josephine over the years. She was deeply involved with Music For Young Children for 32 years, and taught privately - Piano, Organ, Theory and Voice - for over 52 years in Skinner's Studio.

Josephine actively searched for ways to share her deep love of music and to mentor others so they might share this joy. She began sharing her talents as a substitute organist at Central United Church and St John's Anglican Church before going on to further her studies at the Cathedral in Halifax under Fred Graham, then at Acadia University under the leadership of Gordon Callon and Clarence Ledbetter, These studies equipped her with the skills required to be Organist and Music Director at St John's Anglican Church until 1998 and continuing in the same role at Trinity United Church in Mahone Bay, where she served faithfully for over 20 years.

Mentoring and supporting children in developing their love and joy of music inspired Josephine to become actively involved in the Lunenburg Music Festival, serving as president from 1997-2006, treasurer from 1968-72 and secretary in 1996. Even when not serving on the executive, her deep belief in the festival's value moved her to promote the festival to the general public and to encourage participation by all music students. Her devotion to the festival was unwavering and she remained an avid supporter throughout her life.

Another way Josephine was able to nurture children in their musical education and to promote German culture was through the formation of The Lunenburg Kinderchor which she began with Augustine (Gusti) Beck in 1994.

Josephine was an avid swimmer from the age of 8 and this passion, once again, motivated her to teach for over 30 years, 21 of which were at the Saw Pit, in Blue Rocks and Bayport, and later for 9 years as the Director of the Lunenburg swimming pool.

Active within her community, she had been a member of the Lunenburg Curling Club and leader of the Girl Guides of Canada, where she was the first in Lunenburg to receive the Gold Chord. As an accomplished accompanist, her skills were in regular demand for community events, such as the Lunenburg Queen of the Sea Pageant and the Fisheries Exhibition.

Josephine could always be counted on to seize any opportunity where her years of experience and clear talent could be used to encourage children and adults alike to develop their skills and nurture their passions.

While her community was deeply important to Josephine, her devotion and love for her family was paramount. Her steadfast support and guidance provided the rock from which they could draw their strength, forever inspiring them with her courage and power of spirit.

She is survived by her husband, Albert; daughters, Juliette (George Joudrey), Blockhouse: Elizabeth Skinner, Chester: Angela (Sherman Lake); son-in-law, Peter Mader, Scarsdale; grandchildren, Aaron, Katie, Peter, Jamie and Emerald; great grandchildren, Cole, Leah, Claire and Kaelyn; sister, Melissa O'Connor, Dartmouth; brothers, Michael O'Connor, Mahone Bay; Terry (Jean) O'Connor, Ottawa; and many nieces and nephews.

Besides her parents, Josephine is predeceased by her daughter, Rosemary Mader and sister-in-law, Lila O'Connor

Funeral arrangements are under the direction of the Dana L. Sweeny Funeral Home, 11213, Hwy. # 3, Lunenburg. A service to celebrate Josephine's life will be held at Central United Church, Lunenburg on Wednesday, April 25, 2018 at 4:00 pm Rev. Lee Simpson and Rev. Grace Caines-Corkum, officiating.

In lieu of flowers memorial donations may be made to Trinity United Church, Mahone Bay or to the Lunenburg Academy Foundation.

www.sweenyfuneralhome.ca






Life Story for Josephine Mary Skinner
On behalf of Dad, Juliette, Angela and Mom's siblings, Michael, Melissa and Terry, and the extended family - so glad you're with us today. I'm Elizabeth Skinner. Daughter number 3. The quiet one. Yes, I take after dad. And yes, my own words will be few. Today is about the music. It's the best way to celebrate Mom, Josephine, Jo, Aunt Jo, Nanny Jo, Great-Nanny Jo, and as she is known by so many of you, Mrs. Skinner.

It's nice to see so many students, choirs, friends, relatives and all of you from Mom's extensive community. A fond hello to her church family from Trinity United of Mahone Bay, where Mom and Dad received the warm embrace of fellowship. So glad we could all gather here in the church of Mom's youth, Nanny O'Connor's church.

In planning today's event, Mom emphasized the need for an organist, in her words... , "who could play a good Bach". Fortunately, we found one in place here at Central United. In selecting the particular Bach, "Jesu, Joy of Man's Desiring", I reminded her that she and I had played it as a duet in the music festival almost 40 years ago. She responded, "Well...maybe we could... (and paused to consider that thought)... "Oh... No...I guess I can't play at my own funeral".

Believe me... If there had been a way...

With Mom, all things were possible. "If there's a will, there's a way." A phrase often heard in our household. One, I might add, that produced 4 strong willed daughters. There was no saying "no" to the things she truly wanted. And there was ALOT she wanted. It's safe to say that she had a jam packed full 77 years and 51 weeks.

Today marks 78 years... and you're all invited to the birthday party downstairs afterward. Today we also recognize over 52 years of teaching which, we were surprised to learn, Mom planned to retire from in June. So welcome to Mrs. Skinner's official retirement bash.

How do I tell you about the woman behind the curtain of this life and career?

We thought it best to do so through the words we read in cards and letters that were received these past few weeks. The reflections of current students, former students, parents, friends, relatives, and colleagues.

Here's what you had to say:

On Josephine's character –

A role model - smart, energetic, committed and gutsy.

A kind-hearted and talented person.

A force, impacting, in so many great ways, the musical, educational, social and community fabric of Lunenburg.

A very special person with special talent.
A star pupil.

Unlike anyone else.

A real presence. Loved her sense of humour.

It's hard to hold a good woman down!

She was marvellous. I love her.

She was a good soul.

Jo was one of a kind. A remarkable lady!!
Knew who she was even as a teenager and was confident to be herself.

Here's a cute story from that time - Your mom broke the rule about how to dress for school. She'd wear pants, get punished and show up the next day wearing pants again.

In the words of her own piano teacher - "Why can't you be like Josephine O'Connor?"

Many remarked on Mrs. Skinner's legacy –

You have had a massive influence in how my life turned out.

Pianos, guitars, singing and dancing are important parts of our life.

You have meant so much to our congregation... You have shared your gift of music with us and we are so much the richer for it. Your music uplifts us and binds us together in community.

The time and love you have given the youth of Lunenburg has been an inspiration to us all.

I can't tell you how much joy I have had over the last years watching your students in the music festival.

You have much to be proud of!

You have changed the music world in Lunenburg and are an amazing teacher.

There are a precious few in every community who make an impact that is felt deep within and far beyond.
You are one of Lunenburg's precious few.

The time you have so generously given to our community over the years has been a true gift.

I consider you the face, hands and voice of music and festivals in your area.

In remembering Melody Lane – A wonderful progressive nursery school, with the most wonderful snacks – cabbage leaf with peanut butter.

So many fond memories – puppet shows, an outdoor circus, songs and snacks...

And in regard to the Lunenburg Swimming Pool – Many years of dedicated service provided to the young people in and around Lunenburg... to learn to swim and excel in the water.

Fond memories of Lunenburg Pool and your lessons.

I'll never forget my days at the pool when she was running the show.

There remains the legacy of Mom's garden, evidence, I think, of her soft spot.

Many of you shared life lessons learned -

You have taught me so much about not only music, but also valuable life skills.

Hard work and dedication pays off!

Piano has made me strong, disciplined, determined, confident and perseverant.

Goal setting is essential to succeed.

Focus. It's OK to stumble. Try, try, and try again.

"Good, Better, best. Never let it rest. 'Til your good is better and your better is best."

Nothing is impossible. I just had to put in the work, practice hard, and believe.

She made me want to do better and pushed me to measure up... I respected her for that.

Small sacrifices are needed in the attainment of a greater goal.

"When one door closes, another one opens."

And here are your words of appreciation –

Thank you – For crazy hats and pins and outfits.

For all the joy you brought... with your wonderful talent.

For teaching me music. For teaching me the piano and to sing.

For your dedication to so many things.

For teaching me discipline and to always hold myself to the highest standards.

For showing everyone you worked with to be strong and confident no matter what.

For all the pictures! So many memories of all the musical moments...

For all the lessons, recitals, festivals and events you prepared me for.

For believing in me and pushing me to do my best, always.

For showing me a world filled with music, and guiding me.

It was a proud moment when you introduced me as "your" choir director.

I wasn't the best student, but I always felt like you were kind and patient with me.

I am eternally grateful.

She helped shape me into the person I am today.

I love you Aunt Jo, and will always remember your kindness to me.

Best Aunt ever.

You will remain in our hearts always.

Thank you for being "you"!

And finally... Thank you for the music, obviously...

To all of you here today, we are honoured to say, in dad's simple words, "Thank you."
Now Mom... relax ... and enjoy the music as it continues...
You have the best seat in the house.