Obituary for Charles Anthony Schrader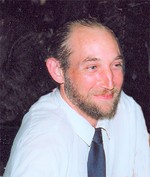 It is with great sadness that the family of Charles Anthony Schrader, 51, of Broad Cove, announces his passing on Wednesday, May 9th, 2018, at the Victoria General Hospital, Halifax.

Born in Lunenburg, he was a son of Victor and Rita (Conrad) Schrader.

Charlie began his working career as a carpenter in his early twenties, a craft he continued with until his passing. Between jobs he found time to travel to Wales and New York on several occasions. Charlie was very proud of his son Dominic and especially his grandson, Eldin. He also enjoyed being an uncle to his many nieces and nephews.

Charlie is survived by his parents, Victor and Rita; son; Dominic (Jessica White), Vancouver, BC; grandson, Eldin Schrader; sisters, Cindy, Brampton, ON, Sue (Peter) Tanner, Bridgewater; nieces and nephews, Max, Samantha, Johnny, Joli, Will-Jay, Mira -Kole, and Tristan-Lee as well as numerous aunts and uncles.

Funeral arrangements are under the direction of the Dana L. Sweeny Funeral Home, 11213 Hwy #3, Lunenburg, and from where a memorial service will be held on Wednesday, May 16 at 2:00 p.m. Rev. Willis Ott officiating. Interment will be in Riverside Cemetery, East LaHave.

In lieu of flowers memorial donations may be made to The Rose Fund.

Order Flowers