Obituary for Vivian Rose Herritt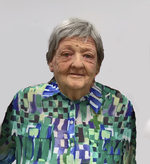 It is with great sadness the family of Vivian Rose Herritt, 78, of East LaHave, announces her passing on Sunday, June 24, 2018, at the South Shore Regional Hospital, Bridgewater, NS.

Born in Louisbourg, NS, she was a daughter of the late Albert James and Rosella Sarah (Lahey) Dowling.

Vivian lived in many places with her husband, Norman, first in Newfoundland, where as a young woman she was a foster mother for over twenty-five children. Later, she went on to start a successful ceramic business where she taught ceramics in the mid 80's. Moving to Bridgewater in 1976, they eventually bought land and built a home in East LaHave, NS, moving there permanently in 1989 and with her husband, opened up Stormin' Norman's Convenience Store and Restaurant (operated from 1990 to 2001).

Vivian was always very active within the local Anglican Church in the various communities in which she lived; including her church of St. Bartholomew's in Middle LaHave, NS, where she was a lay reader for twenty years, a member of the ACW, church choir and faithfully supported the many activities and work of the parish.

Active within her local community, she was deeply involved in the Girl Guide Movement in her younger years and was a member of the Riverview Rebekah Lodge, Riverport, NS.

As a devoted mother; Vivian was a busy hockey and baseball mom to her boys and always found time to support all her children in their many endeavors.

Vivian is survived by her husband, Norman Henry; daughters, Andelyn Marie (Dale) Boutilier, Naugler Rd., NS; Susan "Denise" (John Long), Hammonds Plains, NS; sons, Dexter Lynn (Judy), Riverport, NS; Lexter Glenn (Helen Legge) Upper LaHave, NS; Clinton Dean (Amanda) Arichat, NS; Timothy Norman, Pristina, Kosovo; ten grandchildren and nine great-grandchildren; sister, Thelma Elizabeth Schaller, Sydney, NS; brothers, Gordon William (Vaughn) Dowling, Montague, PE; Albert Ernest (Veronica) Saint John, NB; several nieces and nephews.

She was predeceased by her sister, Vera Marie (Rev. Charles) Threewit, Palmdale, California, USA.

Funeral arrangements are under the direction of the Dana L. Sweeny Funeral Home, 11213, Hwy #3, Lunenburg where visitation will be held Thursday, June 28, 2018 from 7-9 pm, Friday, June 29th from 9-11 am and where a funeral service to celebrate Vivian's life will be held Friday, June 29th, 2018 at 2:00 pm,. The Very Rev. John Wright, officiating. Interment will be in St. Matthew's cemetery, Upper LaHave, NS.

In lieu of flowers, memorial donations may be made to the South Shore Regional Hospital, Bridgewater, NS.


Order Flowers